THINGS TO DO NEAR GRAND PALAIS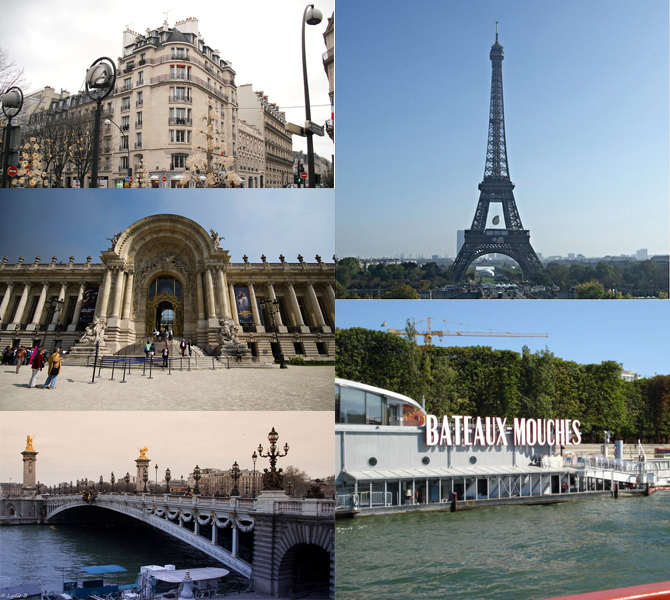 Once you are done admiring the beauty and elegance of the Grand Palais, you will crave for more art and breathtaking sights so you can do the following things near Grand Palais:
a) Walk around Alexandre III Bridge
Distance from the Grand Palais: 0.2 miles
The Alexandre III bridge is a highly artistic sight that you will witness. You can walk around and have the most beautiful view of the Seine river and the Eiffel Tower on the other side. If you are in the mood to just walk around in a peaceful environment then this place will be on the top of your list. If you are someone who enjoys taking photos then you will love this place because you will get an opportunity to get amazing photos while visiting this bridge. The unique thing about this bridge is that it has the architecture in gold color which makes it even more beautiful.
b) Take pictures underneath the Eiffel Tower
Distance from the Grand Palais: 0.98 miles
Going to the Eiffel Tower is a must if you are in Paris, France. The city of lights looks phenomenal from the Eiffel tower. Some people argue that going to the Eiffel tower is not worth it, however, it is one of the most breathtaking and romantic sights especially at night. As compared to other sights, the Eiffel Tower maybe a little far away, however, you can easily reach there. Eiffel Tower is the symbol of the capital city and it was built to demonstrate France's industrial prowess to the world. The French Engineer Gustave Eiffel used metal instead of stone to build the whole tower to demonstrate that the metal can be equally strong as stone even though it is lighter.
c) Visit Petit Palais
Distance from the Grand Palais: 0.09 miles
Petit Palais is a free historic art museum which is situated near the Grand Palais. If you have some more time to look at art, sculptures and various artifacts then you need to have a look at this museum. The building itself has a very vintage look to it. You will be able to capture some stunning photos at this site as well. This place is another heaven for true art admirers. They will be shocked to see prominent art pieces of France in this historic museum. The best thing about this museum is that it is free so you don't have to spend money on another ticket. You can just go whenever you feel like and have a look at some of the best art pieces. Just keep one thing in mind that it closes at 6 pm, so make sure that you don't miss out on it by reaching there later than 6 pm.
d) Shopping on Montaigne Avenue
Distance from the Grand Palais: 0.3 miles
If you are a fashion enthusiast then this place is going to be your favorite in the whole city of Paris. It is very close to Grand Palais so you can easily walk there. Montaigne Avenue is a street near Champs-Elysees and it consists of all big fashion and clothing brands. If you are into high-end designer stuff then you will be seen running into one shop and another. The staff at every store is super sweet and they make you feel like home. The only downside of this place is that not everybody is able to afford such brands and products. However, you can always window shop and just look at the latest fashion trends and other cute things. You are more than welcome to buy whatever you want.
e) Bateau Mouche
Distance from the Grand Palais: 0.2 miles
If you are into boats, then this place will certainly be a paradise for you. Bateau Mouches are open excursion boats which allow the tourists to have a ride around the city. You get to start a journey in a boat on the river Seine with water gushing around you. It is definitely not something you want to miss out during your time in Paris. The best part is that you can enjoy a delicious meal with a fabulous view while cruising around the city.
These five things are definitely worth a try while you are at Grand Palais. They are not far and it depends upon your personal preference and your budget to decide how much money you are willing to spend. With the visit to these beautiful sights, Paris will become your favorite city in the world.