ATTRACTIONS NEARBY THE GRAND PALAIS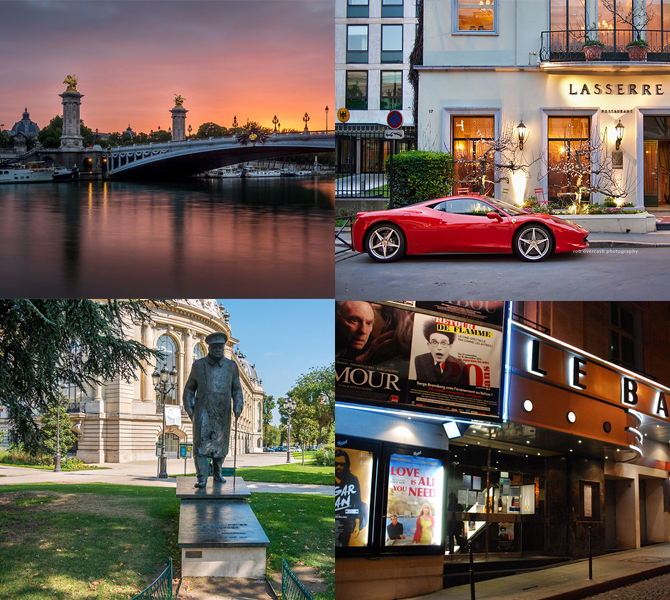 The Grand Palais is one of the most popular buildings in Paris. The building was founded in the year 1900 and since then has been used as a museum complex and an exhibition hall. It is also known for its historical importance and its role in the promotion of French culture. Thousands of people visit The Grand Palais every year. One of the best things about Paris is that there are many different attractions located in close vicinities of each other. Some are more popular than others. The same goes for Grand Palais. It might be one of the most significant structures in Paris, but if you are visiting it, you can also arrange visits to some of the other amazing attractions nearby.
Restaurant Lasserre
Restaurant Lasserre offers a complete French dining experience. It is a beautiful restaurant that has a beautiful interior complemented by an amazing menu. The beautiful interior makes for great ambiance and the wide variety of food on the menu means they have something for everyone. It is a luxurious restaurant but has a very reasonably priced menu.
Pont Alexandre III
Pont Alexandre III is a very beautiful bridge located on the river Seine. It offers many great views, one including that of the Eiffel Tower. It has an embellishment of gold, copper, and bronze which add to the beauty of the bridge. Hundreds of tourists visit this bridge every year. It is also a great site for tourists to take photos on. There are many different sculptures and statues on the bridge as well. Most of the visiting art lovers are very keen on watching these sculptures.
Cours de la Reine
What is more beautiful than nature and greenery. Cours de la Reine is a very simple yet beautiful park. The park runs along the bank of Seine River. It is a perfect place to carry out your walking and jogging routine. Its amazing greenery, view of the river and straight and linear path make it a perfect place to go on a bike tour.
Statue De Winston Churchill
France has always shown respect towards its allies. The Statue of Winston Churchill located at Winston Churchill Avenue in Paris is one such example. The statue is 10 feet tall and is made up of Bronze. The statue was sculpted in 1998 and has some of Winston Churchill's famous words written on the bottom.
Petit Palais
Paris is a popular tourist destination which makes it one of the most expensive cities in the world. So it is a great advantage if you can experience French culture free of cost. Petit Palais is a great art museum that is home to hundreds of different fine arts pieces. Even if you don't have any interest in fine arts, you can still visit this museum and appreciate its architectural beauty. One of the best things about this museum is that it is free to visit and usually isn't that crowded.
Palais de la Decouverte
Palais de la Decouverte is a science museum. There are many educational exhibits on display in this museum. You can even enjoy a tour of the planetarium. The guides, however, give all their lectures in French. You can enjoy the exhibits but if you want to have a complete experience, you'll need to learn a little French.